Business

Feed
Feed
Poongwon Germanium HealthRay (for livestock)
Saving the livestock farming industry.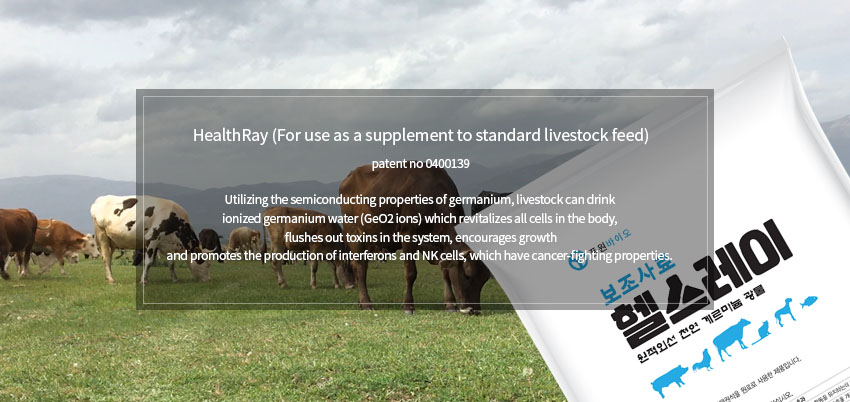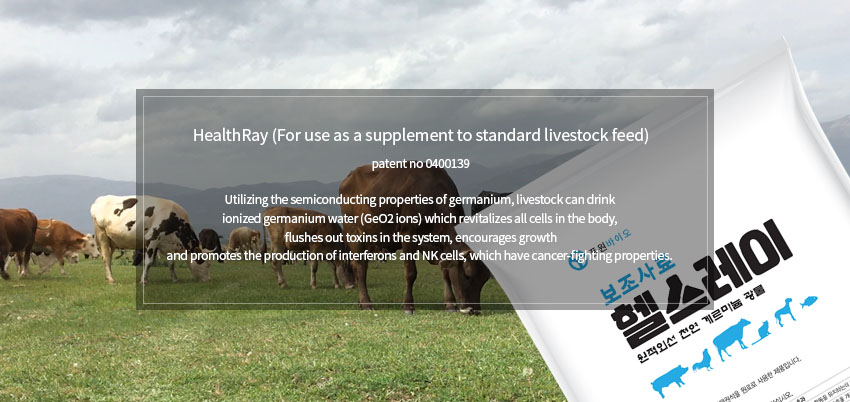 Cows

Cows fed with germanium 80~100 mesh mixed with 5% normal feed will have a higher ratio of meat compared to fat, and the taste and texture of the beef will be vastly improved. The 5% normal feed may be omitted and the cows may be fed a diet of pure germanium, in which case the taste and texture become extremely high-quality.

Pigs

60-80 mesh germanium mixed with feed is ideal, and the pork obtained this way will have lower cholesterol compared to standard pork and will contain higher levels of chito-oligosaccharide and germanium, which have cancer-fighting properties. Germanium also produces far infra-red light, which encourages growth of livestock, decreases mortality rates and improves the quality of their meat such that it can also be used as a growth supplement for all livestock and crops.

chickens

The germanium can be mixed with 5% feed, or, if raising them on a diet of germanium alone, germanium 20 mesh is ideal. The supply of germanium purifies the air and creates a cleaner living environment. It increases the elasticity of the egg yolks and strengthens the shells, as well as enhancing the texture and taste of the meat and reducing the fat ratio of the animals.
Germanium levels in germanium products made with all-natural Poongwon germanium ore
Patent no. 0302277

Poongwon germanium ore, which is from Korea's first and the world's fourth germanium mine, has been scientifically proven to contain extremely high levels of good quality germanium. It especially boasts a strong radiation energy of the highest purity in the world at 99%, and the only place in Korea known for their germanium is Poongwon Corps. Thanks to its semiconductor properties, germanium-enriched water (ionized water (GeO2)) supplied to livestock will revitalise all cells in the body, flush out toxins in the system, encourage growth and promote the production of interferons and NK cells, which have cancer-fighting properties.
Patents